Cyber-author William Gibson describes the sensation of first reading Borges' Tlön, Uqbar, Orbis Tertius, which revolves around an encyclopedia entry on a country that appears not to exist. "Had the concept of software been available to me," writes Gibson in his introduction to Borges' short story collection Labyrinths, "I imagine I would have felt as though I were installing something that exponentially increased what one day would be called bandwidth."
Half a century ago, when Borges' ground-breaking collection Ficciones was first published in English translation, he was virtually unknown outside literary circles in Buenos Aires, where he was born in 1899, and Paris, where his work was translated in the 1950s. In 1961, he was catapulted onto the world stage when international publishers awarded him the first Formentor Prize for outstanding literary achievement. He shared the prize with Samuel Beckett (the other authors on the shortlist were Alejo Carpentier, Max Frisch and Henry Miller). The award spurred English translations of Ficciones and Labyrinths and brought Borges widespread fame and respect.
Labyrinthine plot
He was, from the beginning, a writer attuned to the classical traditions and epics of many cultures. He grew up immersed in reading. His father, from whom Borges inherited an eye condition that left him blind by the age of 55, was "a marginally successful literary hand – a few poems, a so-so historical novel, and the first translation of FitzGerald's Rubaiyat into Spanish," says Donald A Yates, one of Borges' first American translators. Borges' English grandmother read him English literary classics. "Being short-sighted, he escaped into a world where the printed word was more significant than his surrounding reality," says Yates.
As a boy, Borges wrote poetry and visited the library regularly to read long articles by authors including Samuel Taylor Coleridge and Thomas De Quincey from volumes of the Encyclopedia Britannica. He spent his teenage years in Geneva and Spain. As an adult, he worked as a librarian and later as the director of the Biblioteca Nacional in Buenos Aires. By 1930 he had published six books: three of poetry and three collections of essays. Between 1939 and 1949 he wrote and published practically all the fiction for which he would become famous.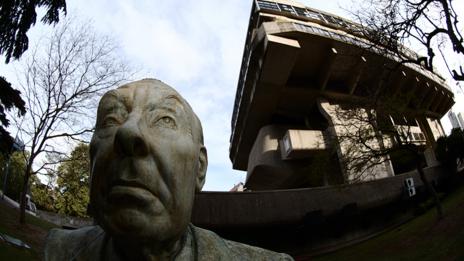 A statue of the author stands outside the National Library of Argentina. Borges became its director in 1955 (Corbis)
"Every writer creates his own precursors", Borges wrote in an essay on Kafka. "His work modifies our conception of the past, as it will modify the future." Borges' own influences range from Paul Valery to Arthur Schopenhauer, from Dante to Beowulf and the Kabballah. He translated Walt Whitman, Edgar Allan Poe, James Joyce, William Faulkner, Virginia Woolf, André Gide, Franz Kafka and epic poems from Old English and Old Norse. He admired Mark Twain, Robert Louis Stevenson, Lewis Carroll, Joseph Conrad and the stories of Henry James and Ring Lardner.
"What Borges did was the ultimate high-low fusion," says critic Marcela Valdes, "mixing pulp material – detective stories, sci-fi scenarios – with architectural structures and philosophical preoccupations. He loved Buenos Aires, but the world he created in his fiction was essentially a world made out of a library."
Borges' preoccupations and innovations are splendidly displayed in Ficciones. He was an early genre blender, for instance. The Garden of Forking Paths, framed as a 1916 deposition by Dr Yu Tsun, a Chinese spy descended from a Hunnan governor who "abandoned all to make a book and a labyrinth," is "an enormous guessing game, or parable, in which the subject is time," and a detective story. Its first US publication was in Ellery Queen Mystery Magazine.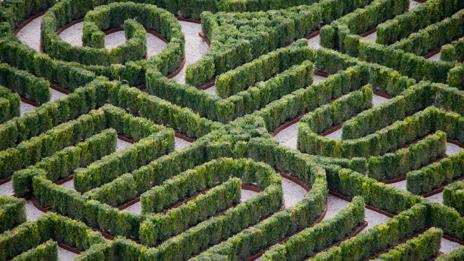 Labyrinths recur in many of Borges' works. The British architect Randoll Coate has designed several in the Argentine author's honour (Corbis)
In his fantasy fiction The Circular Ruins, Borges invents a wizard who secludes himself in an ancient temple to dream a man into being "in minute entirety and impose him on reality." A typical Borgesian mystery arises: is the narrator the dreamer, or is he himself being dreamed?
Phantom books
Ficciones also reflects Borges' original and postmodern approach to books and texts. As he noted in 1941, "The composition of vast books is a laborious and impoverishing extravagance… A better course of procedure is to pretend that these books already exist, and then to offer a resume, a commentary... More reasonable, more inept, more indolent, I have preferred to write notes upon imaginary books."
One of Borges' earliest narrative fictions, The Approach to Al-Mu'tasim (1938), is a brief review of a nonexistent book by a Bombay lawyer who "disbelieves in the Islamic faith of his fathers." In the landmark story Pierre Menard, Author of Don Quixote, the imaginary author Menard re-imagines passages from Don Quixote, an exhaustive process that explores Borges' speculation that each book is continually refreshed by each reader. The Library of Babel presents a universe (called the Library) "composed of an indefinite, perhaps infinite, number of hexagonal galleries, with enormous ventilation shafts in the middle, encircled by very low railings."
Borges has been called the father of the Latin American novel, without whom the work of Mario Vargas Llosa, Guillermo Cabrera Infante, Gabriel García Márquez and Carlos Fuentes would not have been possible. "Borges' influence on Latin American literature is like Sherwood Anderson's effect on American fiction: so deep it that has become difficult to name a major contemporary writer who hasn't been touched by it," says Valdes. "Some of them are affected indirectly – through Julio Cortázar's short stories or César Aira's novels or Roberto Bolaño's everything. The detached tone that marks so much of Bolaño's fiction, giving it that eerie twilight-zone feeling, is straight out of Borges, though Bolaño bent it to his own ends."
Over the decades since his death in 1986, Borges' global stature has continued to grow. "Today one could consider Borges the most important writer of the 20th Century," says Suzanne Jill Levine, translator and general editor of the Penguin Classics five-volume Borges series. Why? "Because he created a new literary continent between North and South America, between Europe and America, between old worlds and modernity. In creating the most original writing of his time, Borges taught us that nothing is new, that creation is recreation, that we are all one contradictory mind, connected amongst each other and through time and space, that human beings are not only fiction makers but are fictions themselves, that everything we think or perceive is fiction, that every corner of knowledge is a fiction."
And, Levine adds, "the world wide web, in which all time and space coexist simultaneously, seems as if it were invented by Borges. Take, for example, his famous story The Aleph. Here the first letter of the Hebrew alphabet becomes the point in time and space that contains all time and everything in the universe." As Borges writes in the story, "I saw a small iridescent sphere of almost unbearable brilliance. At first I thought it was revolving; then I realised that this movement was an illusion created by the dizzying world it bounded. The Aleph's diameter was probably little more than an inch, but all space was there, actual and undiminished."
Readers and writers alike continue to discover new brilliance in Borges' work. A fitting legacy for the man who once wrote "I have always imagined that Paradise will be a kind of library."